Shopping Cart
Your Cart is Empty
There was an error with PayPal
Click here to try again
Thank you for your business!
You should be receiving an order confirmation from Paypal shortly.
Exit Shopping Cart
| | |
| --- | --- |
| Posted on August 9, 2015 at 1:35 PM | |
This post is definitely the most proud post that I will ever be likely to make.  My quilt "Kaleidoscope" has just won not only a 1st prize in "Traditional Quilts" category at The Festival of Quilts 2015 but also the prestigious "Best in Show" award.
I had been notified the night before the show started that I had won the 1st prize for Traditional quilts ...  you should have seen me literally jumping up and down (my poor back) in my studio which is where I was when I heard.  So I was asked to go to the awards ceremony taking place the next day. 
This being my first time entry into The Festival of Quilts I had no clue where I needed to be and what to expect,  and after driving up to Birmingham NEC on the morning of the ceremony I arrived with only about half an hour to spare before the awards started.
So off I toddled to accept my award for First place in Traditional quilts and being handed my certificate and prize cheque.  I went back to sit down.
There are 18 categories in this show and over 1800 quilts were entered this year.  A panel of experts then chooses the Best in show from all of the first prize winners.  I was up against some big names in the quilting industry at this point and really thought there was no chance I was going to stand a chance.  Mind you I had not even thought that I would place in Traditional quilts as I have seen some stunning quilts lately being created for entry into this category.
Therefore when my name was read out as Best in show, to say that I was stunned was a complete understatement, so off I went shaking to collect my certificate and prize cheque.  Walking off the stage after photographs I was in a state of shock, I could feel my chin beginning to wobble, so head down so people would not notice I was starting to cry...  but I couldn't control my emotion, and was completely overcome in the moment. 
Since winning I have had some lovely emails, texts, and personal congratulations from many of my friends and customers, which means so much to me.  Thank you all.
If I had known that I would win like this I would have insisted that my family come with me to see me.  They thought I was kidding them when I rang them.  Thankfully I had friends in the audience to comfort me.
Anyway enough of me blowing my own trumpet.  This is my winning quilt.  It is called Kaleidoscope and is a pattern by an American pattern and fabric designer Vanessa Christenson at V&Co. 
I used moda fabrics called Chantilly, and a solid cream by Art Gallery fabrics.  I have used two layers of wadding, Hobbs 80/20 and Hobbs Wool to give it the trapuntoed effect. 
I longarm quilted it on my APQS Lucey with entirely freehand techniques, including the use of rulers.  NO COMPUTER (I was asked that a lot at the show)  I have used straight lines and dense quilting certain areas to make areas appear puffed up to give it texture and dimension.
I am so glad that the Judges liked my quilt the best this time around.  Beginners luck with my first entry, that's for sure.
I have been asked a lot how I created the scalloped binding, so time permitting, please do watch my website for some workshops in the future on how this is achieved.  (Ring me if you are interested in maybe attending)
I did enter another couple of little quilts, but that's a story for another day soon.
Love to all of my loyal customers without whom, I would not be here.

IN THE WINNERS GALLERY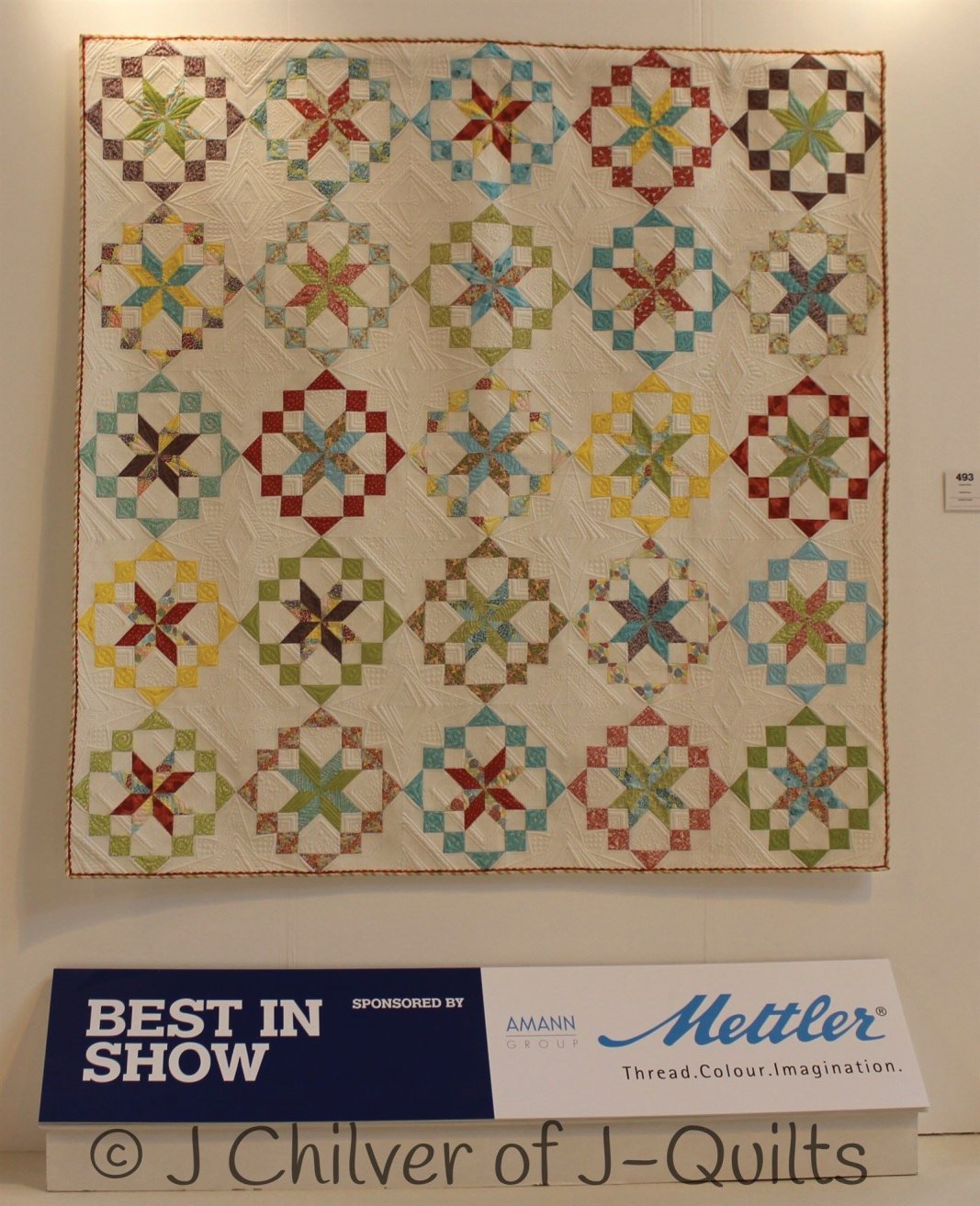 WINNERS GALLERY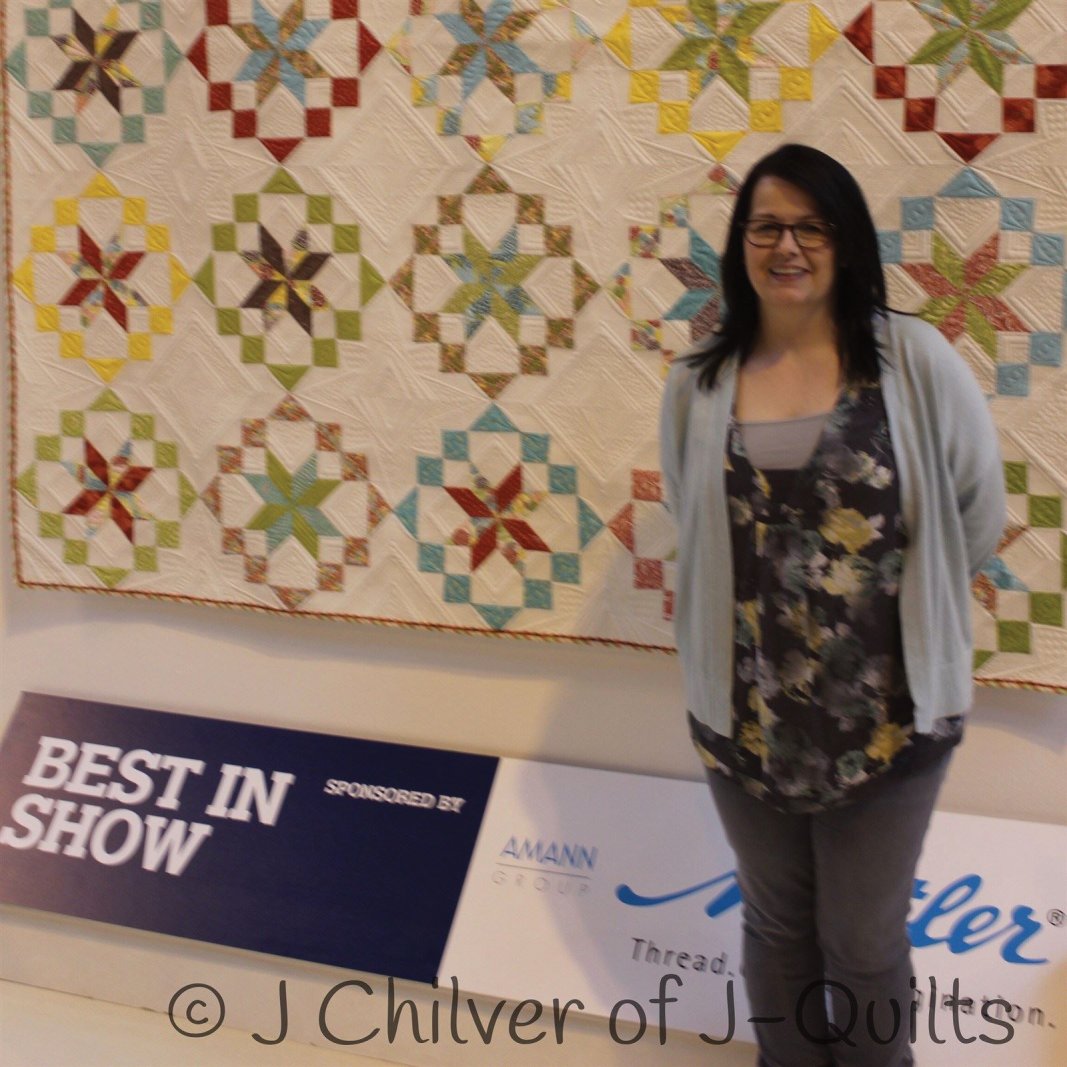 IN PROGRESS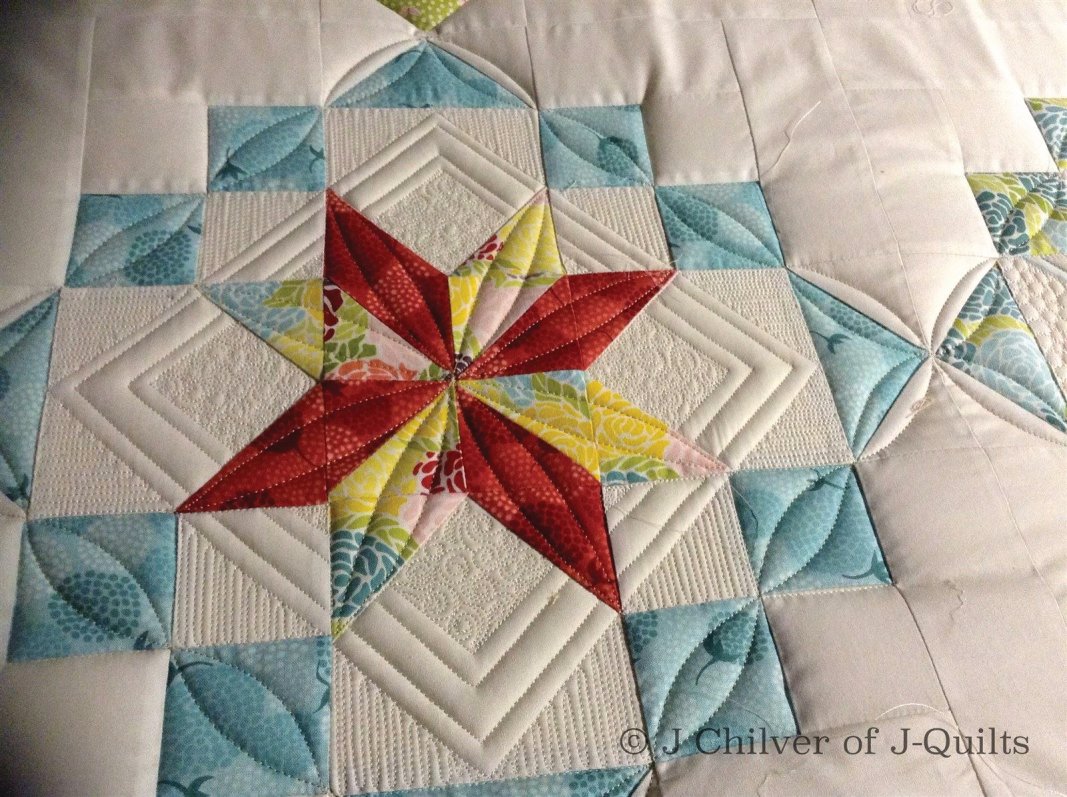 ON OUR BED (INTENDED USE)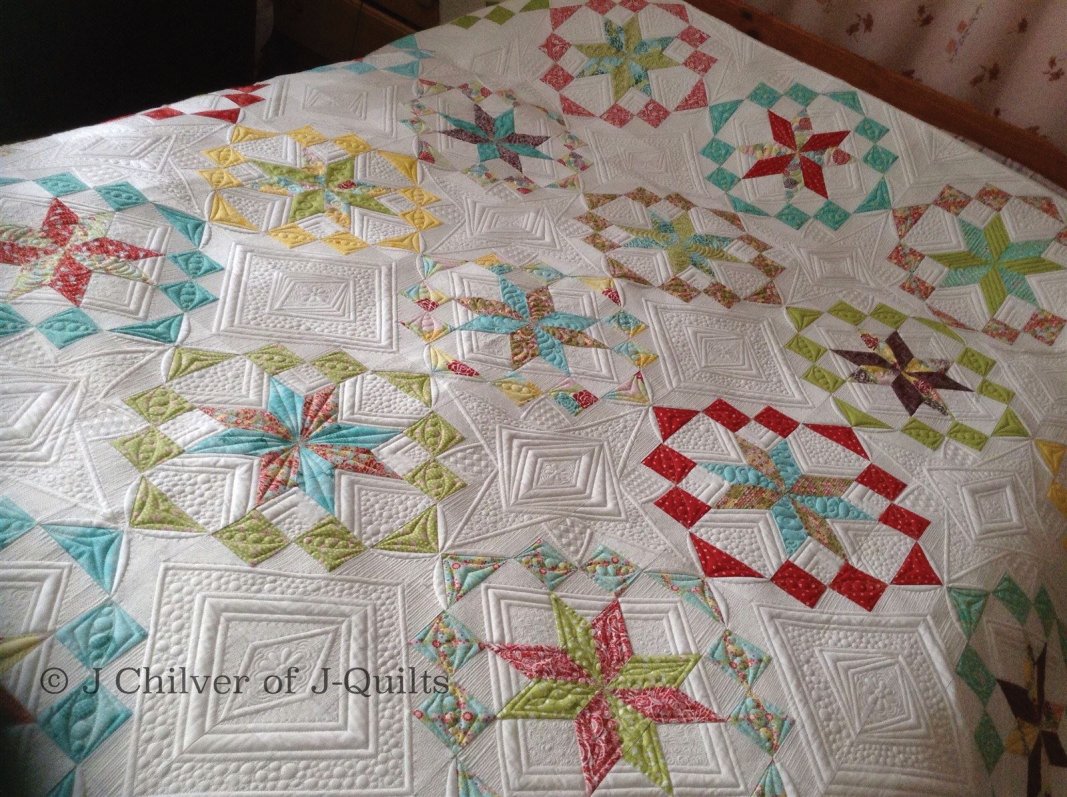 REVERSE OF QUILT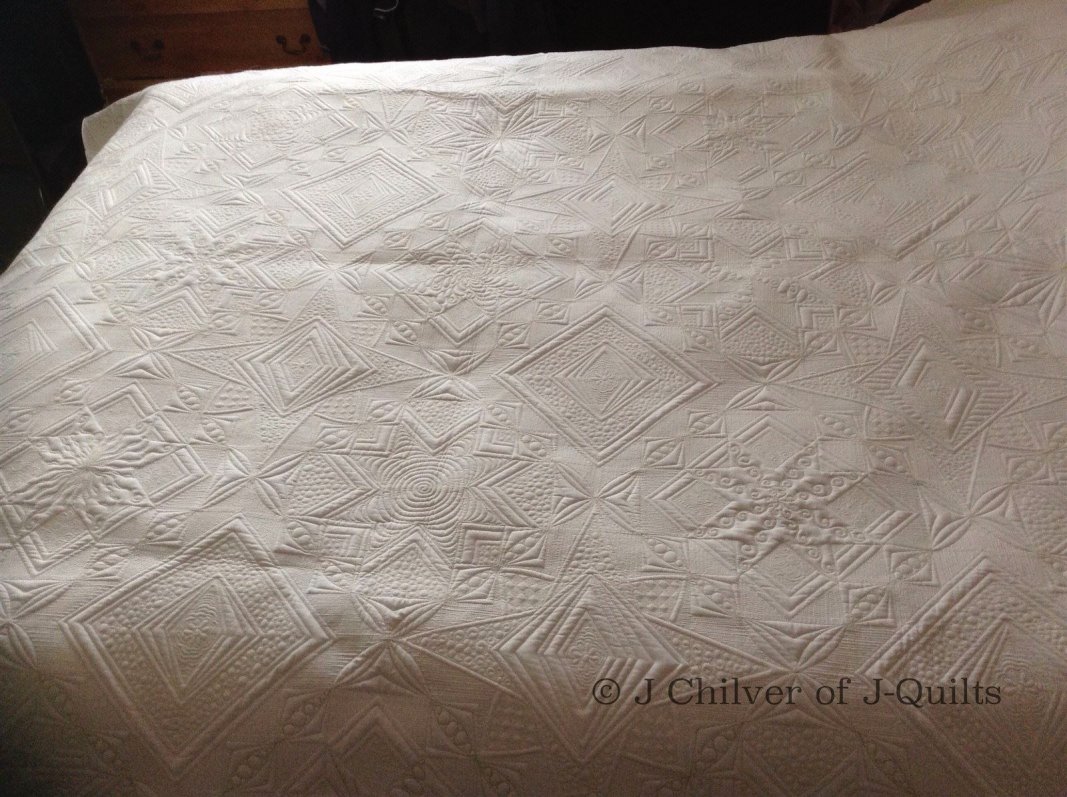 REVERSE OF QUILT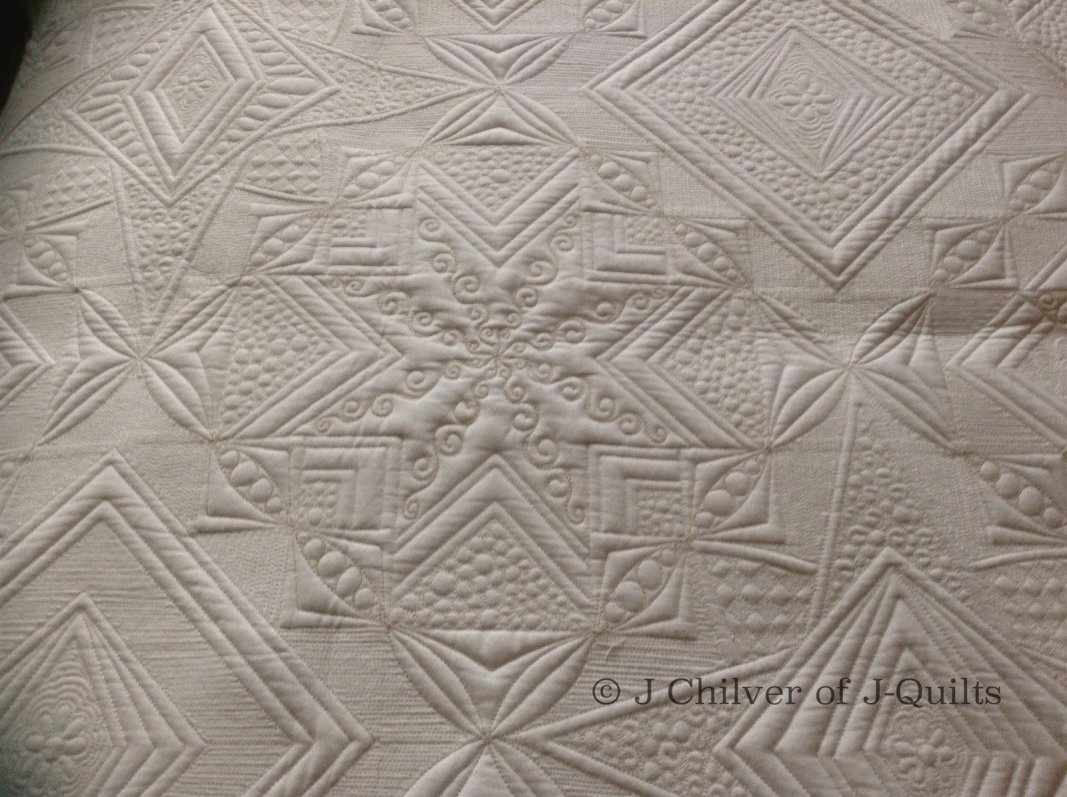 IN PROGRESS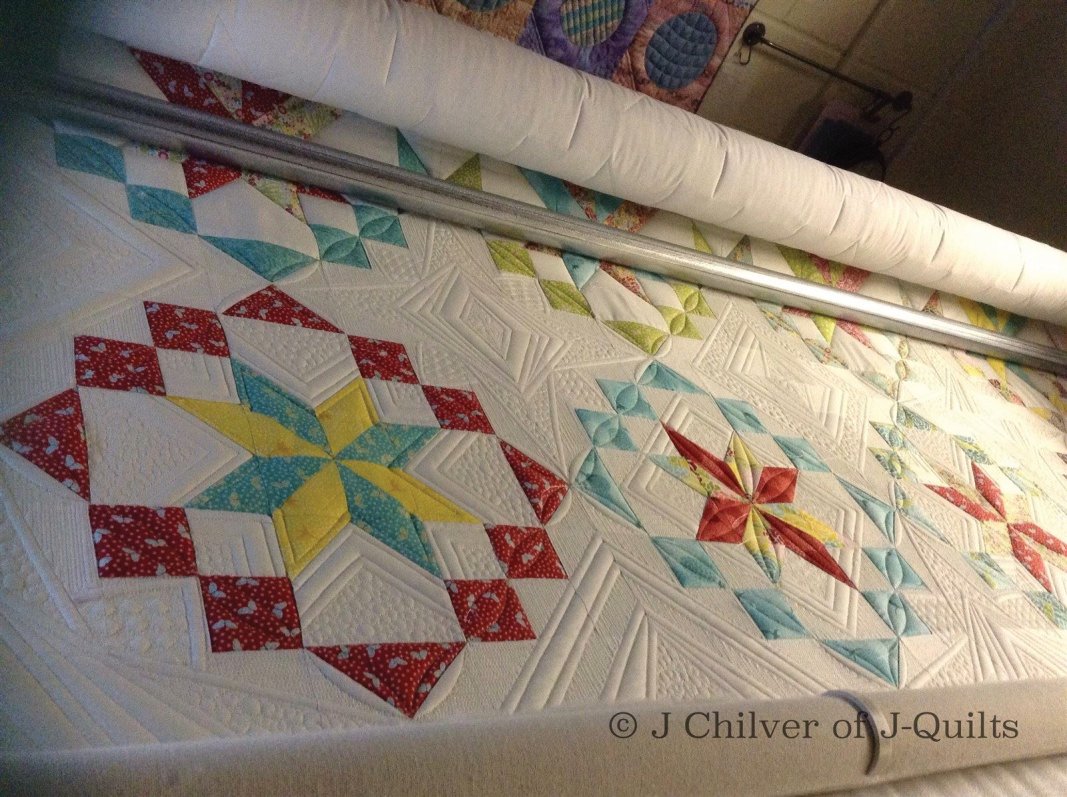 IN PROGRESS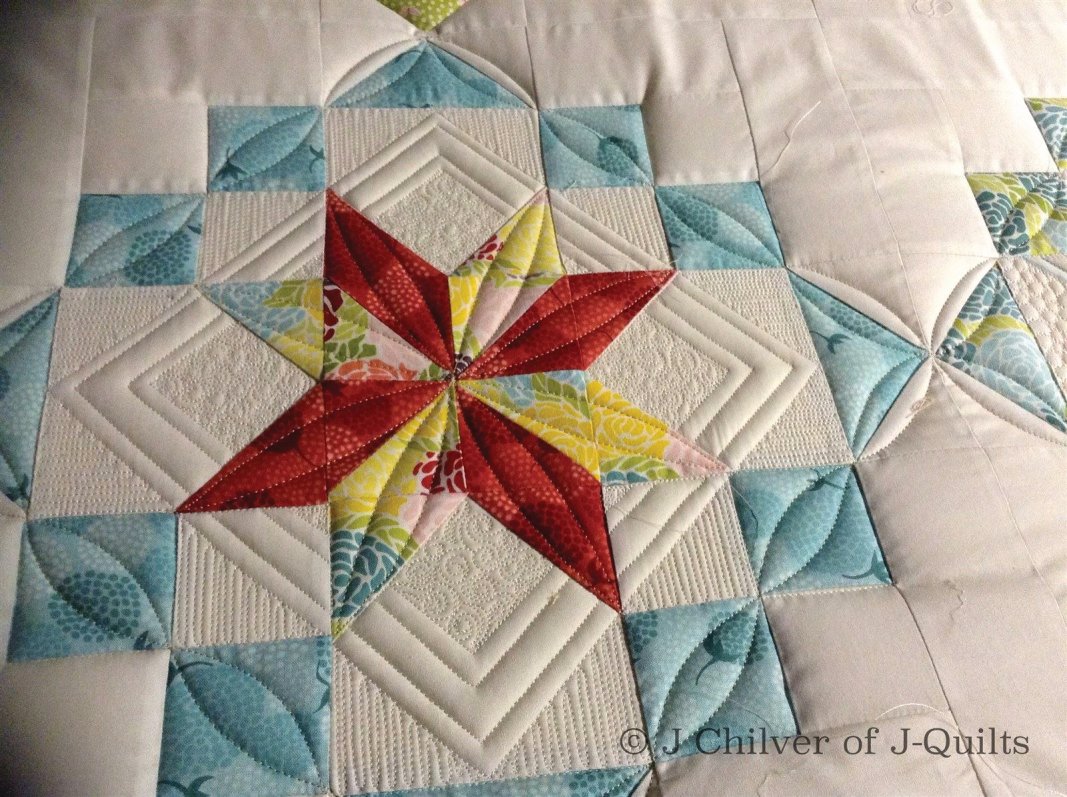 SCALLOPPED BINDING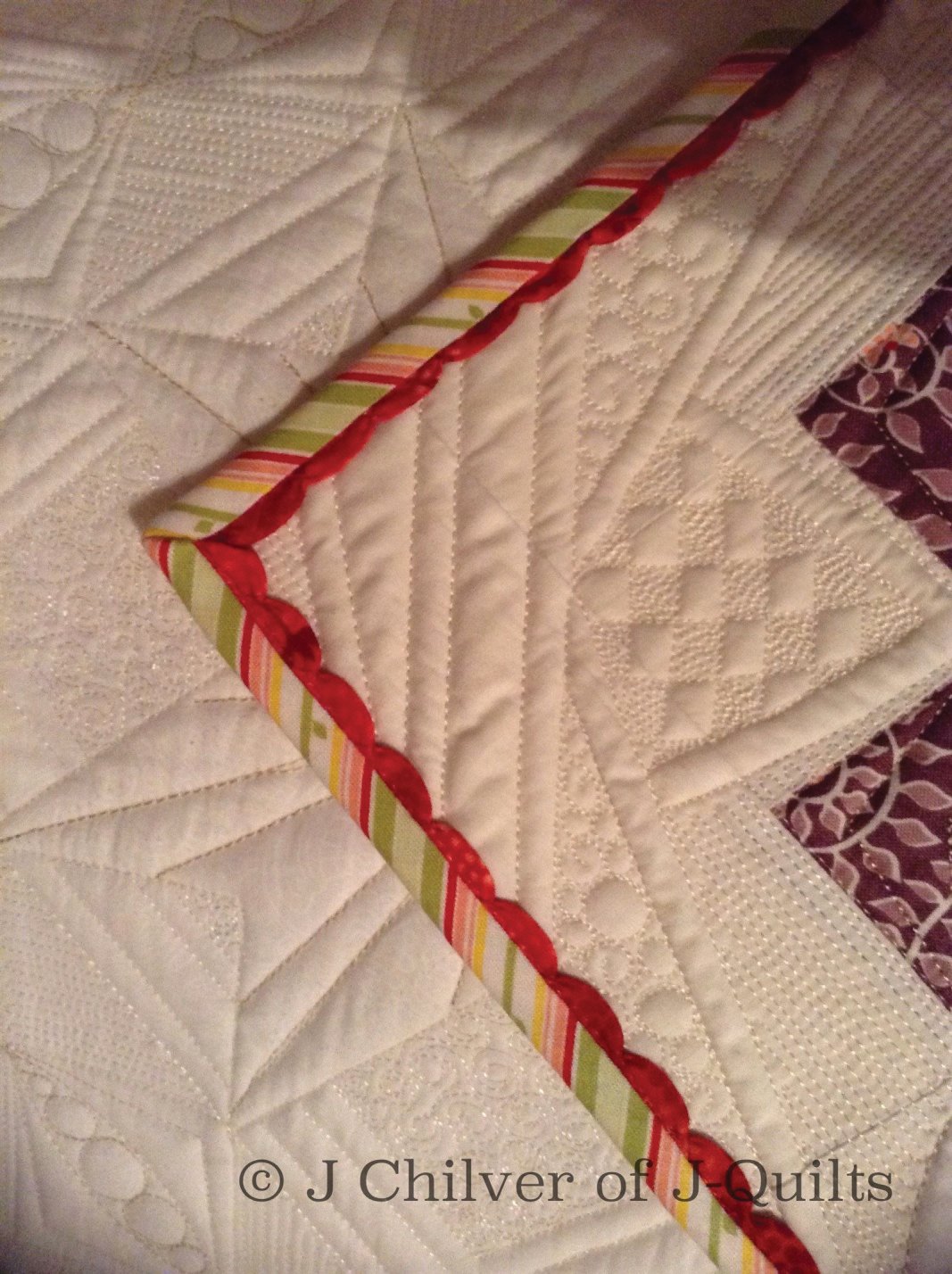 CLOSE UPS (CLICK ON PHOTO TO ENLARGE)
Categories: Custom quilting, General, Modern quilting, Piecing projects
/