Shopping Cart
Your Cart is Empty
There was an error with PayPal
Click here to try again
Thank you for your business!
You should be receiving an order confirmation from Paypal shortly.
Exit Shopping Cart
This lovely quilt was made by a regular customer Angelika  using a pattern from one of the Jelly roll books by Pam and Nicky Lintott.  She has pieced this quilt just beautifully.  She wanted the "dragonfly pond" design with a pale green thread to match the background fabric.  The wadding of choice was 100% Hobbs polydown plus which is a loftier 100% polyester wadding.  
This is rather a large quilt nearly 100 inches square.  So unfortunately I couldn't get a complete photograph of it.
This great quilt has some gorgeous Japanese themed fabrics both on the front and on the back of the quilt.  My customer Ann chose a dragonfly design and copper thread to compliment her already beautiful quilt top.  I love her narrow 1/4 inch red sashing.  Quite often I use red in my quilt tops, (in fact I can't think of many which do not have red in them)
The Japanese believe that a dragonfly symbolizes summer and autumn and is admired and respected, the Samurai use it as a symbol of power, agility and victory.
In China, people associate the dragonfly with prosperity, harmony and as a good luck charm.  Amongst Native Americans, it is a sign of happiness, speed and purity.
I think it is a fun design on the right quilt, and this quilt suited it very very well.
(The first photgraph is the reverse of the quilt.)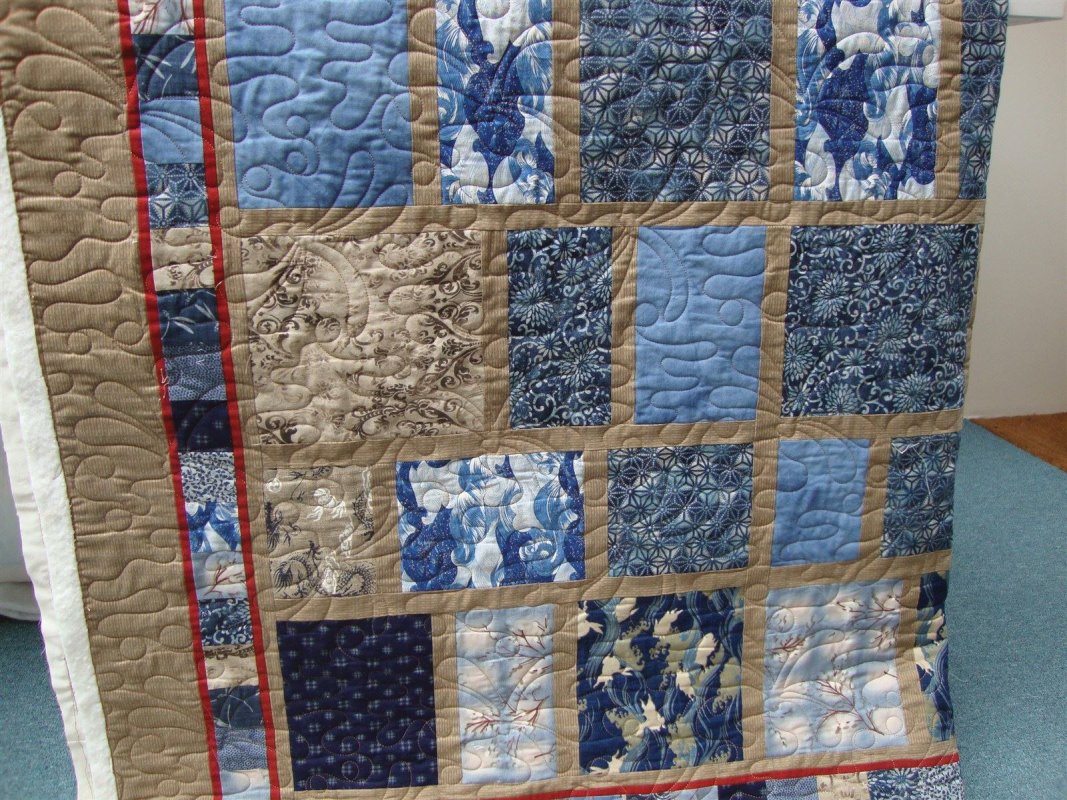 Some finished customer quilts.......
This was pieced my Nicola, and had some gorgeous appliqued birds and hand embroidered panels.  Some of the pieced squares in this quilt are only 1 inch square.  I used a lemon thread and "Debs swirls" design as an allover pattern.  I made sure first if Nicola wanted the applique to be quilted over or around before deciding that she was happy with an allover design.  IIt turned out great, adding lovely subtle texture and finish to the quilt, without overpowering the applique.
The next quilt was pieced by Jackie, and is a gift for her daugher who loves dragonflies, so she had already chosen the "Dragonfly pond" design from my website before posting the top to me to be quilted.  My camera seems to hate photographing purples and never makes the colour look true to life.  This has been pieced with 9 patch blocks and snowball blocks, and I have quilted it with a dusky pink/mauve thread which was chosen as an inbetween shade between the purples and pinks and the creams in the quilt.  Also taking the backing fabric colour into account which was a dusky pink/plum.
A lovely design which turned out beautifully.
/