Shopping Cart
Your Cart is Empty
There was an error with PayPal
Click here to try again
Thank you for your business!
You should be receiving an order confirmation from Paypal shortly.
Exit Shopping Cart
I have lost some time this week with my ongoing back and neck issues which were possibly made worse for driving to Lincolnshire and back again for a family funeral earlier in the week.  Driving any distance is enough to drive the pain up even further so I am dosed up on more painkillers.  I will be so glad when all of these issues are gone for good.  I keep being told that it is only temporary, although it has nearly been two years since my car was hit from behind which caused all of these issues.
Not to dwell on the negatives of the week though as I try not to go on too much about my back (although my family would probably disagree with me with that comment) honestly I am fed up too with moaning about my back.
As mentioned last week I have been doing an online evening course on tablet design, although this week I have not been as actively involved due to my back and neck because PC work doesn't help at all either.   So today (Saturday) I sat for a little while and got caught up on some classes and have attempted a couple of wholecloth designs that I drew directly in photoshop, and this is what I came upwith ..... maybe one day one of them will end up as a quilting project for me.    These are drawn using the bamboo tablet and stylus drawn directly into photoshop, I have only just started using the tablet and  at the moment I have greater control of drawing the old fashioned way with a pencil and paper, but I suppose that computers are the way to go so I should persevere.. 
Here is just a snippet of the centre of my wholecloth which I have been working on yesterday.  Just 6 hours of quilting, which is alot less time than I expected it to take, I should probably be working a little slower at it for better results, and I am thinking this could be a prototype and hope for a better result further down the line as I know that a few areas could be so much better and I had a few blips with my carriage not running smoothly which needed adjustments - however, for my first attempt at quilting a wholecloth I am pretty pleased so far.   It has not been without hiccups though as most of my markings were so faint I was  guessing some of the time where the feathers were.  So lesson learned, next time I will mark with a longer lasting pen.  I used the blue washout fine line pen, and thought that they lasted a long time.  I certainly won't be winning any awards with it, but then again, that is not the reason why I quilt.
It will be off the frame ready for customer quilts to be loaded and quilted next week,  and maybe back on in the next few weeks when I get some more weekend freetime.  Maybe another 6 hours and it will be ready for binding.  This is when I wish my machine was at home with me rather than at my studio so that I could quilt until midnight!!!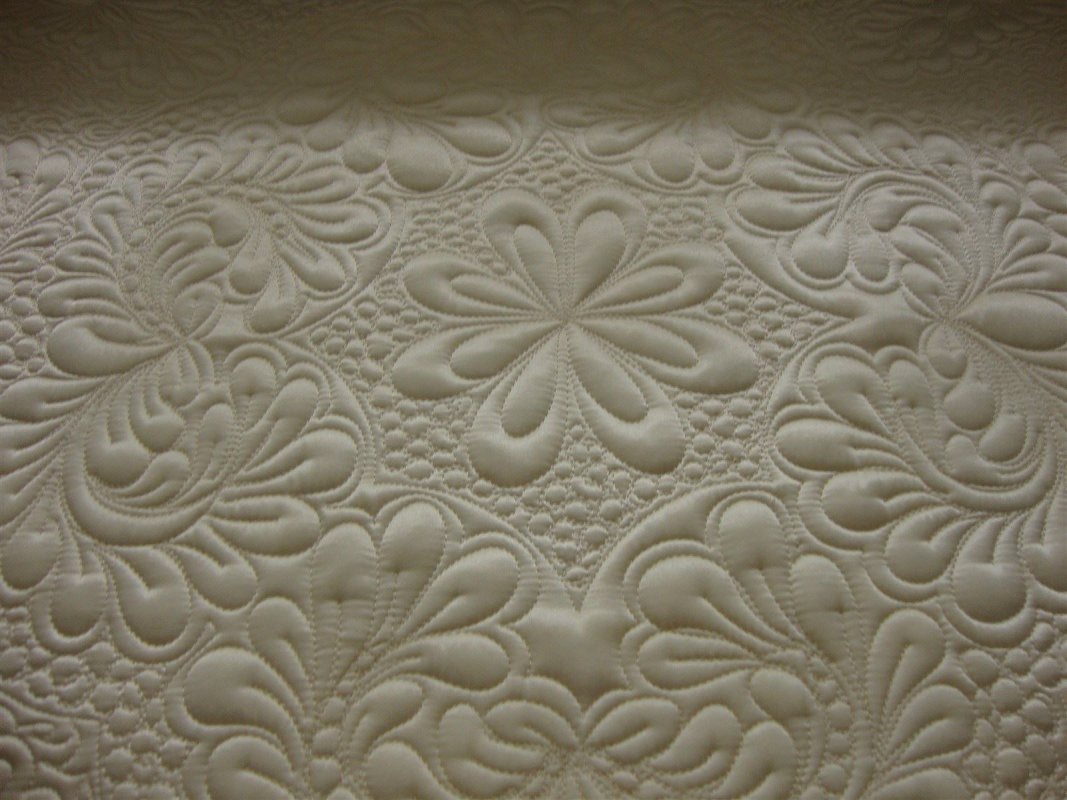 I didn't think in a month of Sundays that I would be able to draw feathers let alone complete a wholecloth design from scratch.  After seeing some divine wholecloth designs by fellow Longarm Quilters on various longarm forums and blogs, I thought I would give it a go after ordering Adam Chenoverts wholecloth tutorial DVD.  I started doodling during the first couple of lessons (and confess that I still have not watched to the end yet) but it became rather addictive once the basic principles are understood, although I need to buy myself some  better drawing pencils.
Mine are alot simpler than others that I have seen which are absolutely stunning and intricate, but I kept reminding myself that whatever I draw I would also have to quilt and this is not the kind of quilting that I am used to, but I wanted to set myself the challenge of attempting it to see if I could do it or not.  You can see that the centre does not quite line up, and I must have drawn the centre section with a tiny gap between the two halfs.  This is drawn in miniature first and then enlarged on a photocopier and any tiny indescrepancy becomes a large one !!  I am not too worried though as I will just redraw the centre motif before I mark the fabric which is the next step.  There will also be background quilting which I have not marked.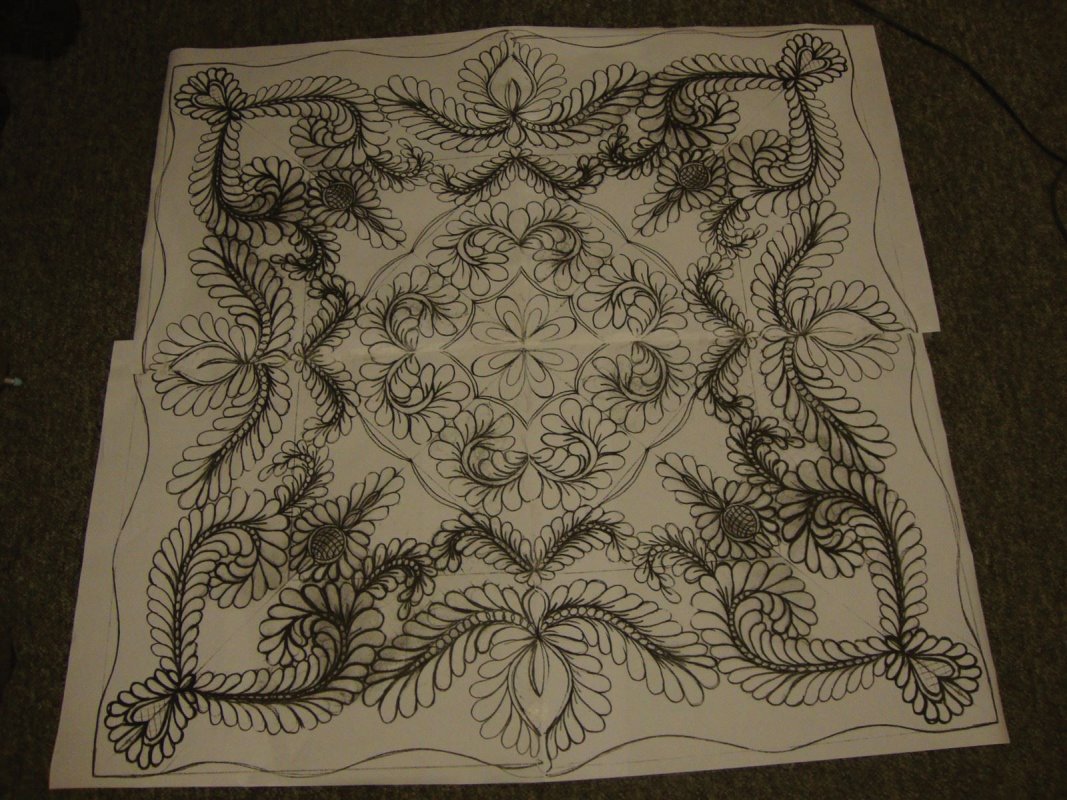 Of course once you do one, you have to do another as it really is quite an addictive way to spend some of the weekend, this one is the same design, but with a different centre overlayed at the moment.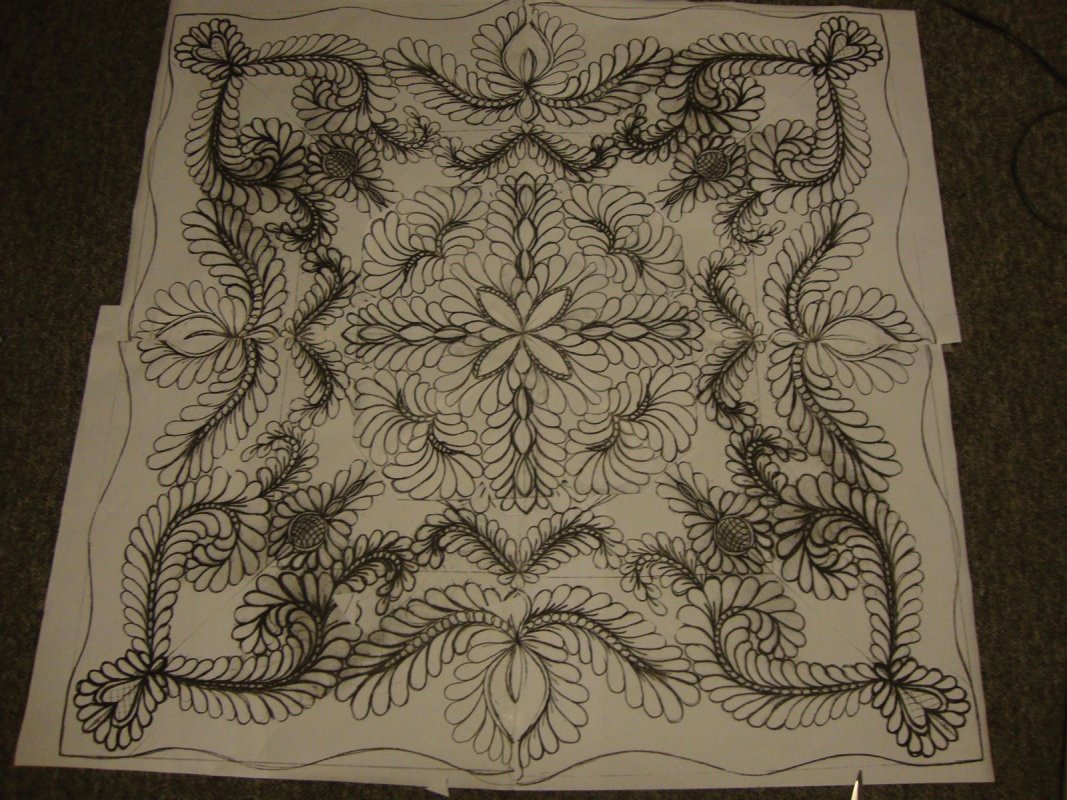 Although I am not that keen on the next one because it is more open, I could perhaps add some more to it, as I like some of the motifs.  I just doodled it last night and it needs more to it really but I am pleased that out of 3 first wholecloth designs that there is one I would like to quilt, and who knows maybe there is a masterpiece still in me yet.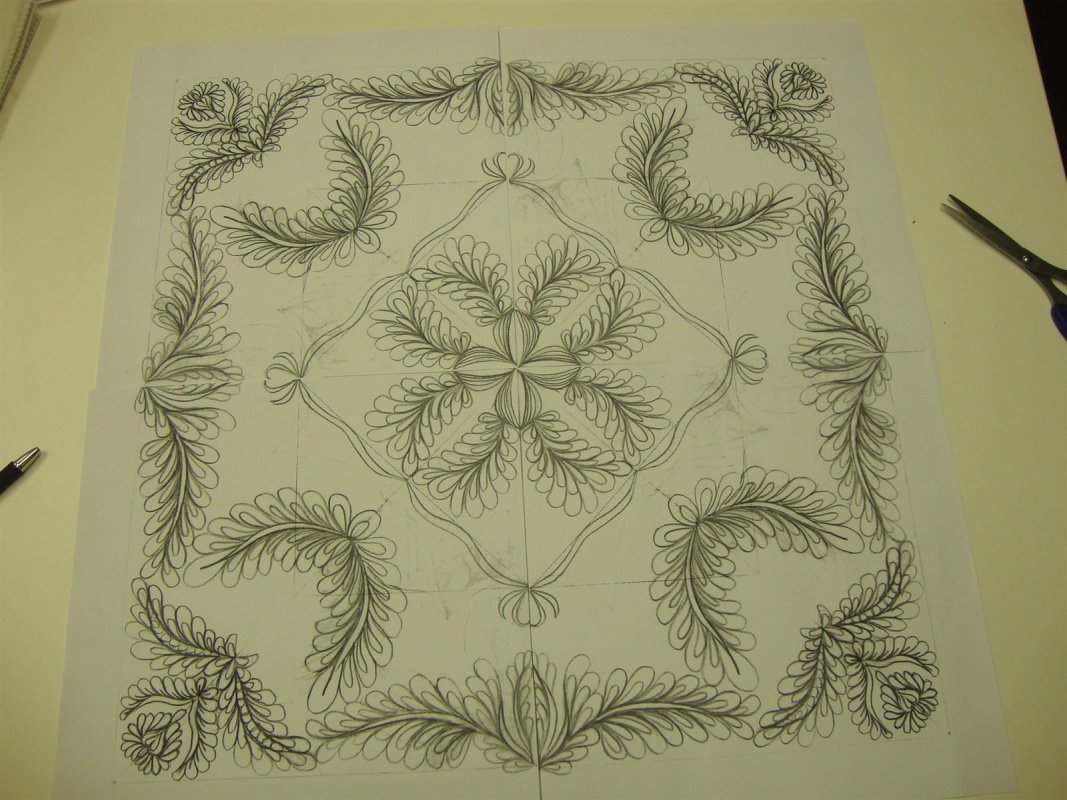 I actually can't draw feathers, (or anything else for that matter)  so if I can do it, anyone can.
Mind you - this is just on paper, marking onto fabric and quilting it may be another story entirely - LOL....  so watch this space maybe in the distant future.....  perhaps a Christmas holiday project?
So which one to quilt?  I think the first one and if that one goes well then maybe the second one, I don't think the third one is ready for quilting quite yet, although maybe with some background quilting and crosshatching it could be.
/