Shopping Cart
Your Cart is Empty
There was an error with PayPal
Click here to try again
Thank you for your business!
You should be receiving an order confirmation from Paypal shortly.
Exit Shopping Cart
This gorgeous quilt was pieced by my customer Sue, with the help of another customer Nicola to piece her very first quilt.  She made a fantastic job of it,  and she chose a modern quilting design called vertigo to match the modern feel of her quilt.  The circular movement of this design is great for square pieced blocks.  It looks great on the backing too which I supplied from stock in a lime green tonal vineyard fabric.  So much texture.  I love this design.

It is the turning twenty design (or it could be the turning twenty again design)  I can't remember which now, I quilted it with a pea green thread which looked great, and is one of those chameleon threads which seems to match each colour on the quilt.  Lovely.
I attached the binding for Sue as it was her very first quilt, so she could then spend a fun day hand stitching the binding on the reverse of her quilt.  She was so pleased with the results.  I think she chose some fabulous fabrics and colours for her first quilt.

This quilt was made by my customer Elizabeth, who made a lovely job with the blues and creams.  She chose a very modern looking design called "Vertigo" and a pale sky blue thread.  It turned out lovely, and has made her quilt very textural with a modern feel to a fairly traditional design.   This quilt could have also been a prime candidate for some custom quilting too, although some of the prints were a little on the busy side, so we agreed that an allover would suit it too, as detailed quilting could possibly get a little lost in the prints..

Elizabeth was very pleased with it, and the vertigo design is very much her style.

This quilt was made by Karin from Quilters Haven in Wickham Market.  She has made this quilt based on a "jelly roll race" quilt and has added additional flare to the quilt with some circles too...  this has been made with the "juggling summer" fabric range by moda and I believe that she is selling kits over in her shop if you fancy making the same quilt head on over to her shop.

I longarm quilted it for her in the "vertigo" design using a copper thread to blend across the lovely bright colours in the quilt. 

Another busy couple of weeks - it is a pretty busy time of year, and barely any time for blogging, but will try and share some of my latest finished quilts.
My customer Gail made this wonderful log cabin quilt with some lovely reds, greens, yellows and scrappy fabrics to give a lovely country cabin feel to the quilt which I really like.  It was pieced beautifully, and I quilted it with copper thread which blended well,  and the texture of the circular spiralling vertigo design looks great too.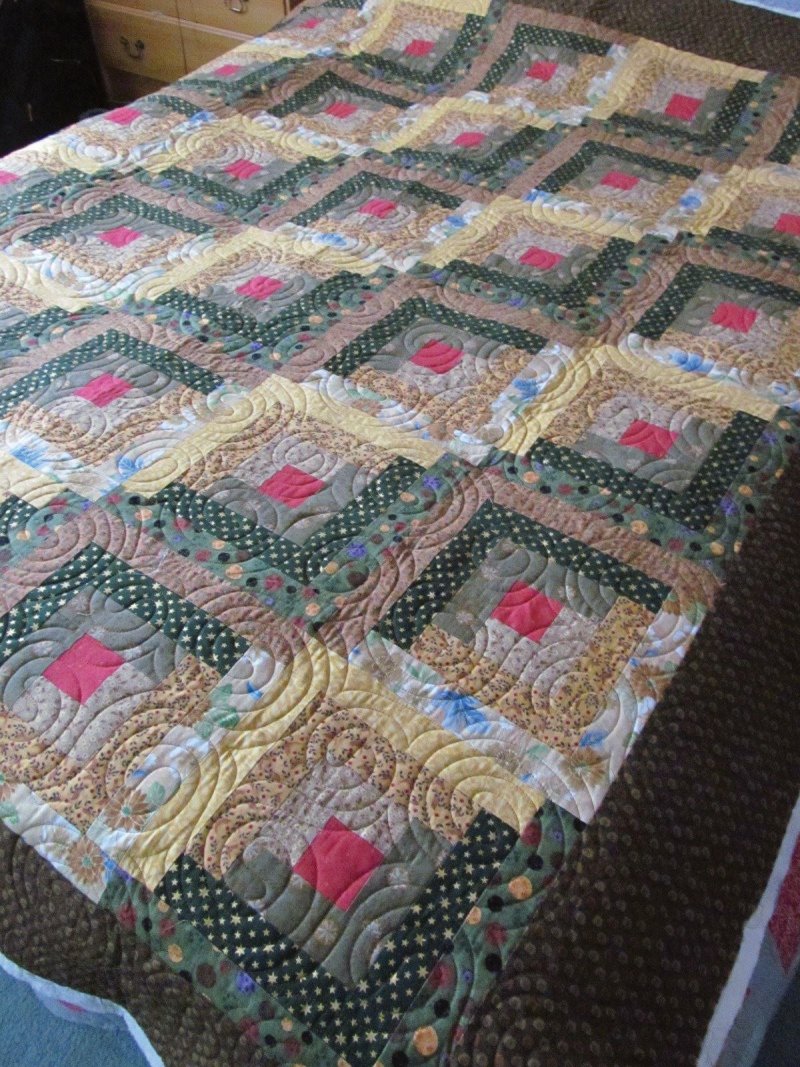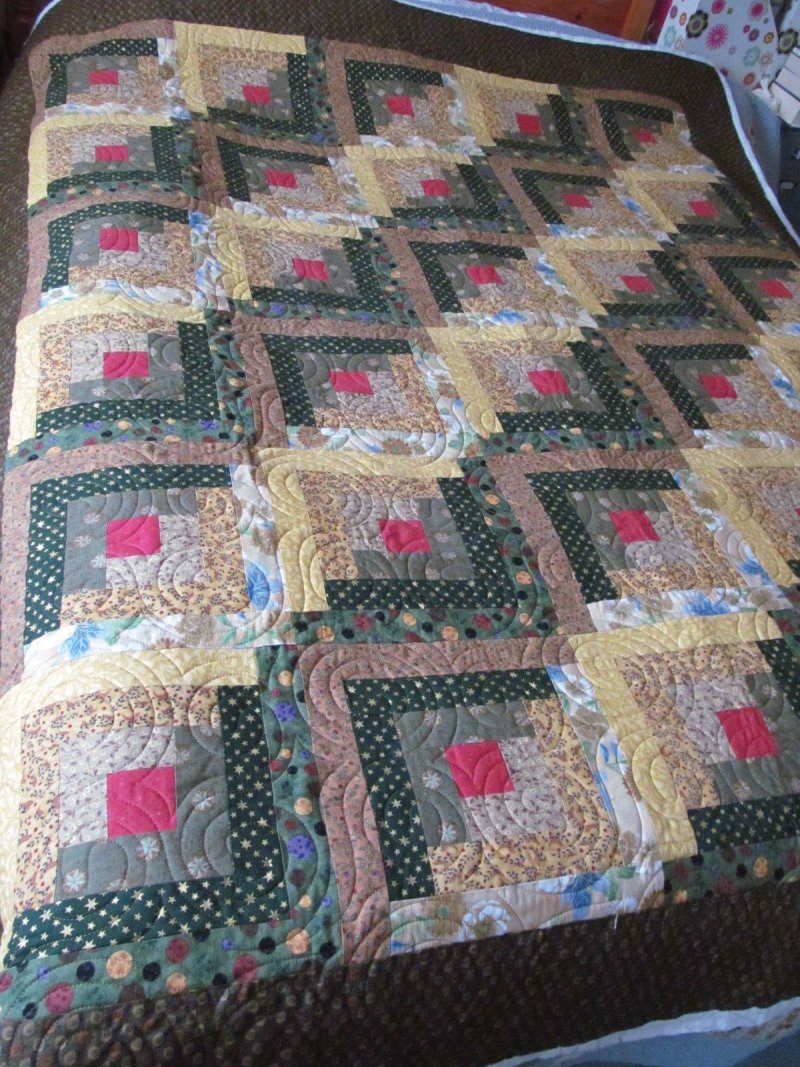 This is Jennys first quilt, which she has made with some lovely bright modern fabrics and she has made a great job of it too.
I quilted it with an ivory coloured thread, and the Vertigo quilting design, which is also a nice modern design which breaks up the square blocks nicely.    I also added the red binding for her too. 

This quilt is another gorgeous autumn quilt made by my customer Phillipa, which was beautifully pieced.  She chose the "Vertigo" design, and I suggested copper thread which really adds great texture and shine to the quilting.  I attached the binding to the front of the quilt and hand basted the binding down to the reverse ready for Phillipa to hand stitch down permanently.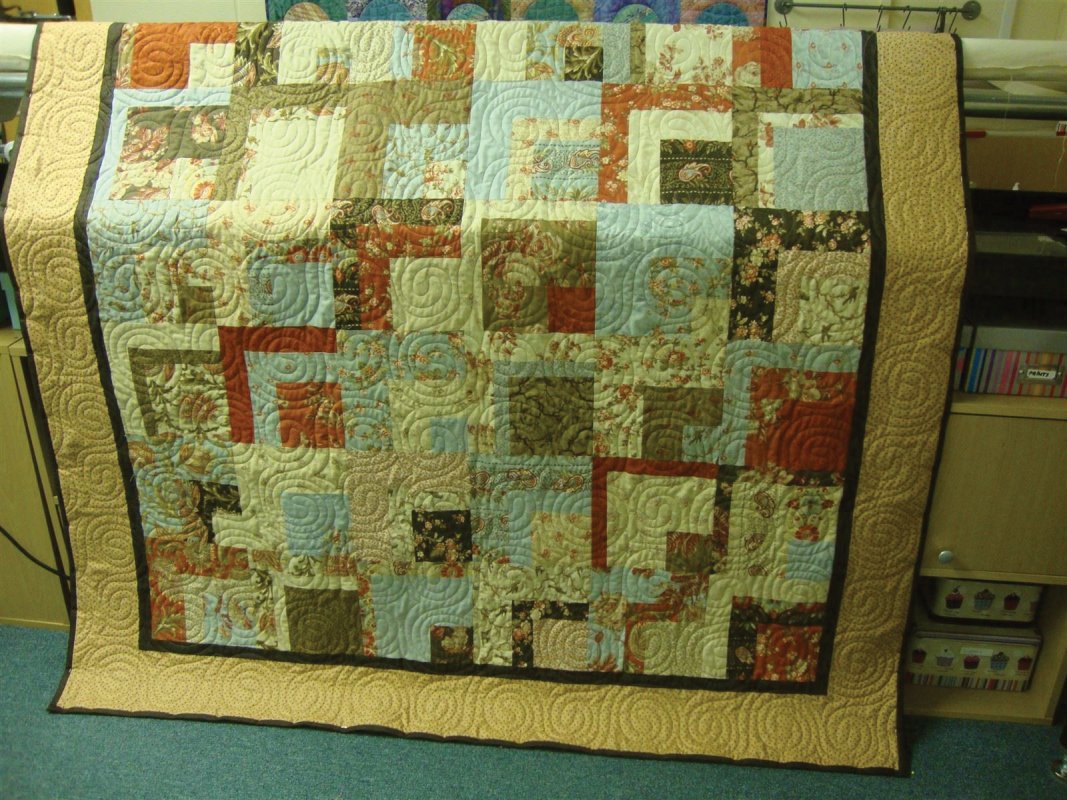 I really must learn how to take better photographs.  The above photograph was taken in my studio with day light shining down on it which sometimes can bleach the colours in a photograph a little.  The photograph below was taken in a different room with light coming in from the side which really shows off the texture of the quilting.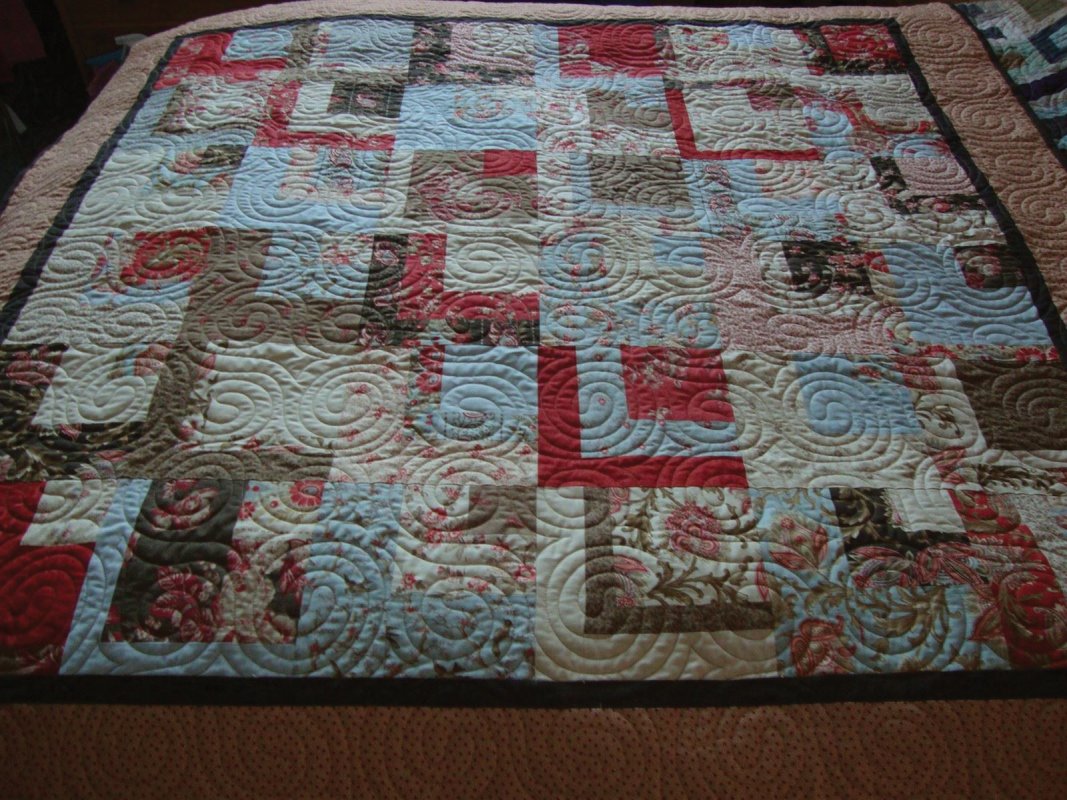 The pantograph used on this quilt is called "vertigo!" which was very apt as it did make me feel a little dizzy temporarily towards the end of the quilt.  I was alot of fun to do, although tricky.  It may look like a simple design, but it is the hardest shape to produce on a longarm machine.  The longer the curve the harder to maintain a smooth line, but once you get into the rythmn it goes well.
I may have explained in my last post that I impulsively purchased a set of Japanese taupe fabrics at a talk with a local quilt group.  I pieced it over the next couple of weekends as I don't get much time for piecing in the week.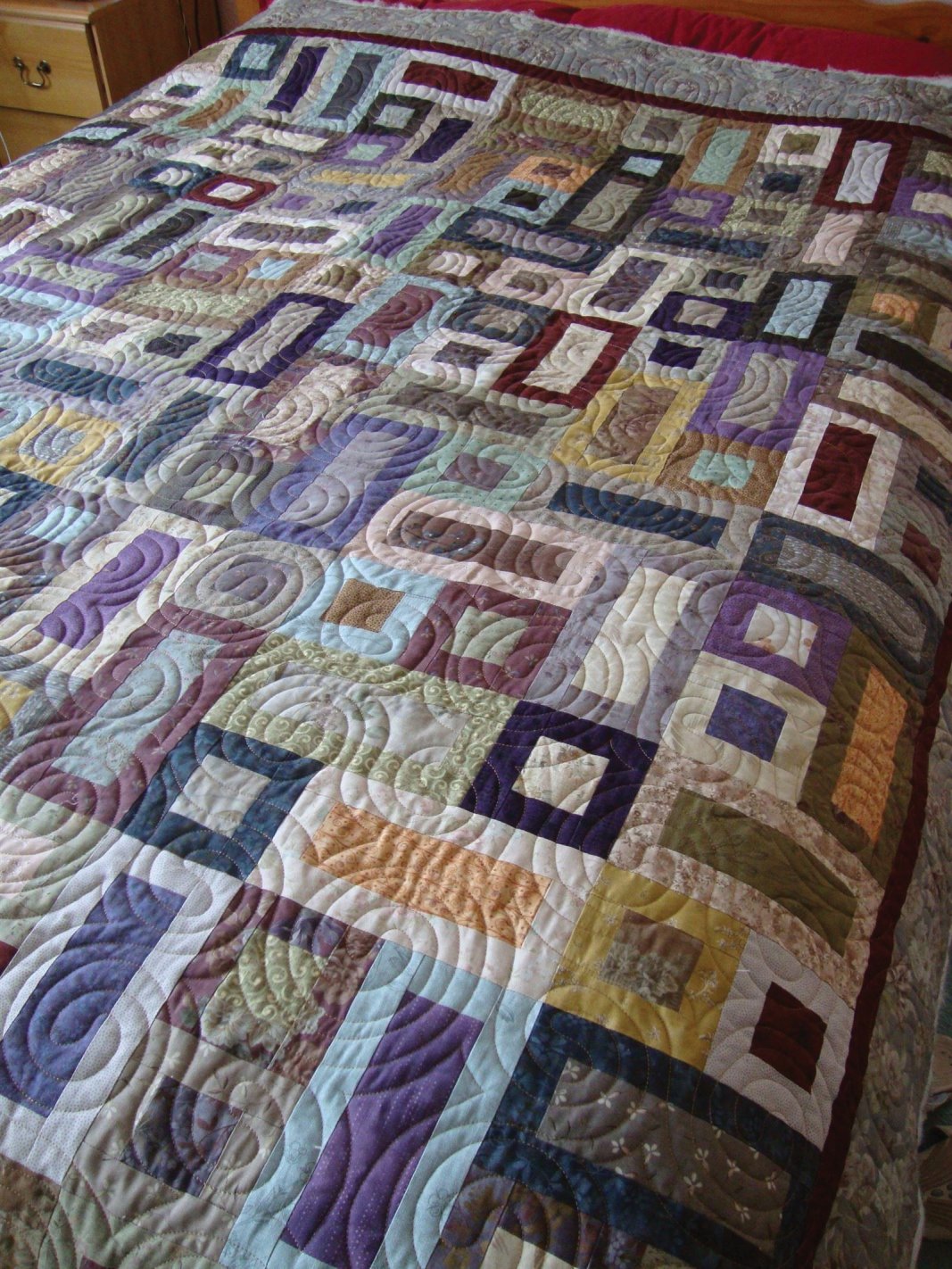 I love the colours, and although I had thoughts about quilting it a little more intricately for a short time and maybe to quilt the borders separately, I am so glad that I quilted an allover design on it, due to all of the colours going on in the quilt I don't think too much would have shown up, (not to mention the time aspect of detailed quilting !)
I used Hobbs wool for the first time, and it gives a nice quilting definition, however I would not use it out of a precut packet again, as it did not lay flat and bowed in a few places, which caused a few problems with controlling the quilt top over it.  I would however use it from a roll as it would be nice and flat.  The wadding itself was very nice.
I have used a batik backing which in hindsight perhaps was a little bit extravagant, and a little wasteful of a lovely bolt of batik which won't be seen on the back and which would be nice for a quilt top.  It also has a very crisp finish, but I am sure it will soften up quite nicely with its first wash.  Just need to bind it, then it is all ready for our bed. Hope to finish it over the coming weekend.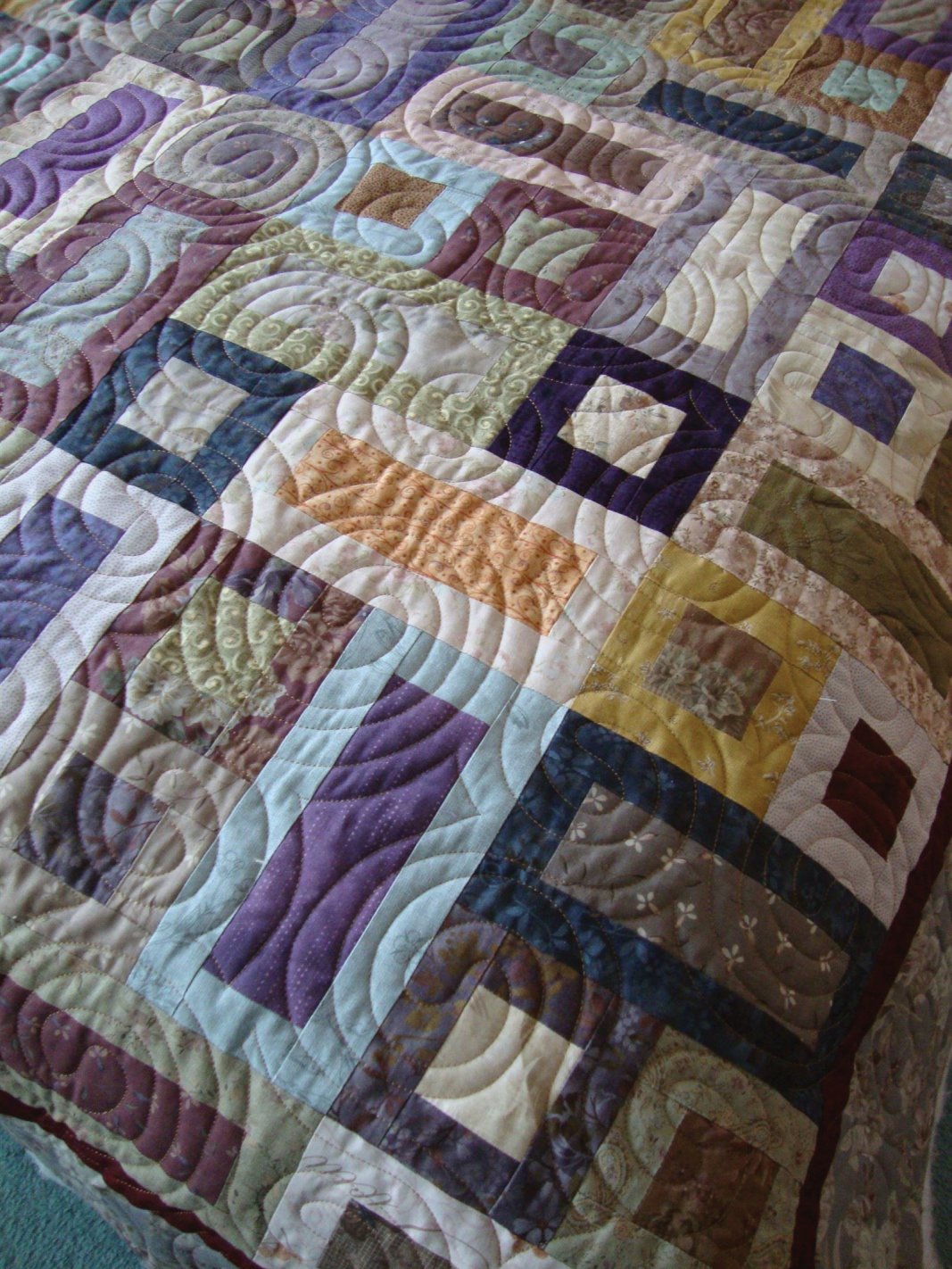 /